This post is also available in:
Persian
Plastic pollution in sea set to treble in a decade, warn government scientists
The amount of plastic in the world's oceans is set to treble in a decade unless action is taken to deal with the problem, according to a major new report.
Experts warned that plastic is one of the biggest threats facing the world's seas, while highlighting other keys issues including rising sea levels, warming oceans and metal and chemical pollution.
The Foresight Future of the Sea Report warns against an "out of sight, out of mind" approach to the problems affecting the world's seas, while calling for concerted action on plastics in particular.
Experts write the Foresight reports to brief ministers on significant issues in the medium and long term.
Despite its warnings, the report on the future of the seas highlights opportunities to cash in on the global "ocean economy" – which it says is set to double to $3 trillion (£۲ trillion) by 2030.
If governments could identify ways of protecting biodiversity in the seas, then it might be possible to profit from nodules of metals, it said.
They report's authors predict that the biggest industrial growth in the seas will come from offshore wind, followed by marine aquaculture and fish processing.
There is a need for more research into the impact it is having on the ocean, according to Professor Ian Boyd, chief scientific adviser for the Environment Department and one of the report's authors.
Plastic pollution, which is set to treble between 2015 and 2025 without intervention, has a physical presence in the oceans, and can accumulate on the coasts or in particular areas of the sea.
While animals have been documented consuming or becoming entangled in plastics, the toxic effects they have when they break down and end up inside marine organisms are still not clear.
"Even in absence of research, there is a precautionary principle to take here, which is we should minimise the amount of plastic, both macroplastic and microplastic, going into the marine environment, in order to make sure that if there are toxic effects, those are being dealt with," Professor Boyd added.
The authors suggested efforts to reduce plastic pollution should focus on preventing it entering the sea, introducing new biodegradable plastics and public awareness campaigns about marine protection.
"Plastic pollution is one of the greatest threats facing our oceans, with items ranging from whole plastic bottles to tiny microplastics being found in seas all around the world," said Louise Edge, senior oceans campaigner at Greenpeace UK.
"If strong action isn't taken now, the problem will get exponentially worse. More research is needed on the many different facets of plastic pollution, but it is already clear that we must end our relationship with throwaway plastic and find alternative packaging solutions which won't harm our environment."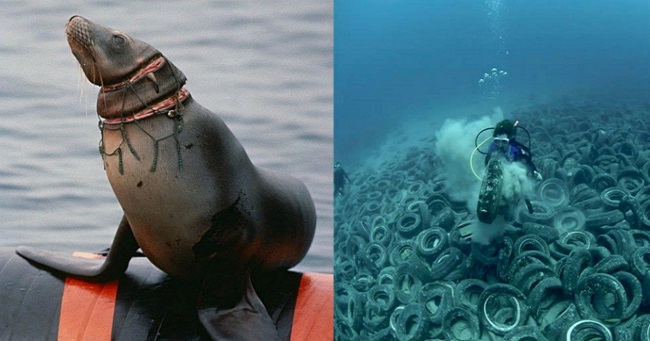 She added: "Retailers should eliminate single-use plastic from their own-brand packaging and the Government can play an important role by introducing a UK-wide deposit return scheme for all drinks containers to help us reduce, reuse and recycle."
Professor Edward Hill, executive director of the National Oceanography Centre, said it was time to change the "out of sight, out of mind" attitude to the world's oceans.
He said the Blue Planet television series has helped people visualise what is going on in the oceans, provoking both wonder at what is down there and horror at the impact humans are having.
"It's this sense of the unexplored world on our own planet, but also it's important to us. We know less about the bottom of the sea than the moon or Mars, but nothing lives on the moon or Mars, but things live in our ocean and they're vitally important to us," he said.
Additional reporting by PA